Mad Design Interiors
Mad Design Interiors stands as an illustrious interior design powerhouse, illuminating the design landscape of Halifax. Mad Design Interiors is one of the Three Best Rated® Interior Designers in Halifax, NS.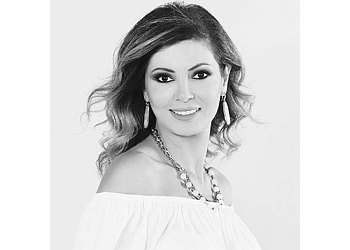 Spearheading this creative endeavour is Madona Nemr, the luminary residential design consultant at the helm of Mad Design Interiors. With Madona's visionary guidance, the ordinary metamorphoses into the extraordinary, seamlessly blending functionality, beauty, and invitation into a bespoke masterpiece that reflects your individuality. Mad Design Interiors doesn't just craft spaces; they sculpt experiences. Through Madona's adept expertise, the canvas of any setting is imbued with warmth and a deeply personalized touch, ensuring that your space becomes a sanctuary that resonates with your essence. From conceptualization to realization, Madona's discerning eye and innovative approach redefine interior design, turning mere places into living narratives of style and comfort.


Diploma in Make-Up Artistry
Traditional and Contemporary
Exterior Furnishing
Available in English, French and Arabic.
Modern Interior Design

Home and Colour Consultation

Home Design

FlipHome Renovation

Kitchen and Bathroom & Remodel



Bedford

Dartmouth

South End

West End

Eastern Passage

Hammonds Plains

Windsor

Chester

Hubbards

Bridgewater & Lunenburg
Its difficult to find the words to convey our gratitude and joy as we stand in our newly updated kitchen and baths after working with Mad Design Interiors. Madona has exquisite taste, was able to ascertain exactly what we were hoping for and connect us with the right products at the right price. She possesses the rare talent of picking exactly the right shade of white from a wall of dozens of samples (I know you know what I'm talking about). All of her suggestions and advice was spot on and she checked in regularly throughout the project to ensure all went according to plan. Tony has wonderful communications skills and he and his crew were professional, respectful and very talented. They did everything possible to assure their presence in our home was as unobtrusive as it could be and our fears of living in a construction nightmare were soon put to rest. We very highly recommend!
During the whole 3 weeks of renovation, Madona was very professional and easy to work with. She was always there for us, keeping us calm and on track when things went sideways. We both appreciate all the assistance Madona gave us, when we were purchasing our renovation materials. It has been a pleasure working with her and highly recommend her. Thanks to Madona!
Okay, bear with me, this might be a little long but if you're new to renovating it will be worth it. I've never renovated before and was having a hard time figuring out how to start my new kitchen. I found Madona and Tony online at Houzz and after reading the reviews booked a meeting with them, hired them. Tonys' enthusiasm is so contagious and you can immediately see Madona's professionalism as her eyes scan the room you're renovating as you speak with her - she's always working on something and has impeccable taste! I knew from the moment she and I walked through Home Depot with her that I'd made the right choice. As well, Tonys team is unbelievable at their work. Madona and Tony have gone above and beyond for my son and I, saving me money in countless little ways which all adds up. The reno's almost complete, but I haven't really felt like I've been working with a designer and contractor. I really feel like I've been working more with extended family. I highly, highly, highly recommend Madd designs. I will add before and after photos later!
Mon-Fri: 10am - 6pm
Sat & Sun: Closed
Nearby Interior Designers in Halifax: