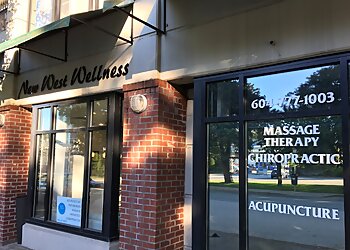 New West Wellness Centre is dedicated to providing a warm, serene, hygienic, and compassionate environment, offering a space for relaxation and healing. Their primary mission revolves around offering support and assistance to numerous individuals in their journey to overcome pain and attain robust health. The practitioners at New West Wellness Centre specialize in treating various acute and chronic health conditions, emphasizing preventive care to enhance well-being across all age groups. This healthcare clinic serves the New Westminster community by offering a team of highly qualified and empathetic healthcare professionals committed to alleviating discomfort and enhancing the quality of life for everyone. New West Wellness Centre takes pride in its diverse lineup of hands-on practitioners who excel in providing a variety of massage treatments, along with expertise in Naturopathy, Chiropractic care, Acupuncture, Cupping, Kinesiology, and Nutrition.

UNIQUE FACTS:
• Welcoming, Calm, Clean And Caring Environment
• Highly Educated, And Compassionate Healthcare Professionals
• Excellent Communication.
Specialty:
Manual Lymph Drainage (MLD), Relaxation/stress Relief, Sports Massage, Deep Tissue, Prenatal and Postnatal Massage, Chiropractor, Kinesiologist, Acupuncturist, Naturopathic Doctor & Orthotics, Myofascial Release, TMJ Massage, Trigger Point Therapy, IASTM (Instrument Assisted Soft Tissue Mobilization), Joint Mobilizations & Personal Training
$Price:
$130 for 60 minutes treatment

Contact:
Working Hours:
Mon-Fri: 7am - 9:30pm
Sat & Sun: 9am - 6pm
TBR® Inspection Report: