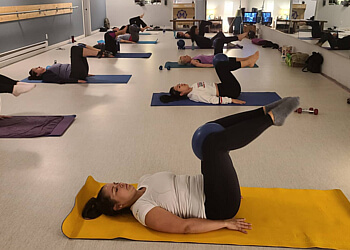 MOVE Studio is one of the foremost yoga studios in New Westminster, British Columbia. Here, you can choose from a diverse array of classes conveniently scheduled at various times throughout the day. It's worth noting that MOVE Studio maintains a fragrance-free environment to ensure the comfort of all attendees. The studio exudes a welcoming and cozy atmosphere, creating an environment that is warm and relaxing, fostering inspiration. Another highlight is their state-of-the-art Dolby Atmos 3D sound system, enhancing your experience. For your convenience, MOVE Studio provides a range of yoga props, including mats, bolsters, blocks, blankets, straps, weights, and bands, all free of charge. Plus, they offer complimentary hot tea from the Great Wall Tea Company and refreshing cold filtered water on tap. What truly sets MOVE Studio apart is its commitment to delivering quality and responsible instruction, always considering the best interests of the students. They boast a wide selection of drop-in classes designed for individuals aged 16 and above, ensuring there's something for everyone.

UNIQUE FACTS:
• Connecting Community Through Movement
• Move Has Been the Recipient of The A List and Readers Choice Awards
• Nominated for Several Platinum Awards.
Specialty:
Vinyasa, Candlelight Chillout, Hatha, Power, Ashtanga, Pilates, Barre Technique, Yogalates, Hump Day, Mom and Baby Yoga, in The Flow, Restorative, Yin with Aromatherapy, Prenatal, Teen and Dance, Movement & Meditation
$Price:
Student / Senior Drop-In - $20
Drop-In - $22
2-Week unlimited Intro Pass - $40
Online 5 class pack - $55
Online Autopay Unlimted Pass - $90/month

Contact:
Working Hours:
Mon-Thu: 9:15am - 10:45am|5:15pm - 9pm
Fri: 9:15am - 10:45am|5:15pm - 6:30pm
Sat: 8:45am - 11:30pm
Sun: 10:15am - 12:30pm|6:15pm - 7:45pm
TBR® Inspection Report: