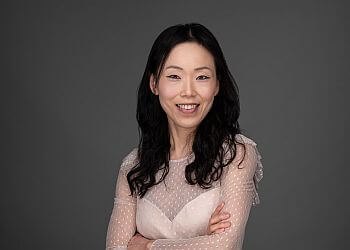 Dr. Kathy Hahn, DPM, is a distinguished podiatrist in New Westminster, known for her expertise in the field. She holds board certification from the American Board of Podiatric Medicine, showcasing her commitment to professional excellence. Dr. Hahn earned her doctorate in podiatric medicine from the Dr. William M. Scholl College of Podiatric Medicine in Chicago. She subsequently completed her surgical training at Montefiore Medical Center in New York City. During her surgical training, Dr. Hahn proficiently performed a wide range of foot and ankle surgeries, including managing trauma cases and complex reconstructions. She maintains active membership in the British Columbia Podiatric Medical Association and the American Podiatric Medical Association. Dr. Kathy Hahn's clinical interests are centred around sports medicine and surgery, reflecting her dedication to addressing the unique needs of her patients. She offers expert podiatric services with a strong emphasis on patient safety. Additionally, Dr. Hahn is fluent in English and Korean, ensuring effective communication with a diverse patient population. Dr. Hahn practices at West Coast Podiatry, providing comprehensive care for all patients experiencing foot and ankle pain.

UNIQUE FACTS:
• Accepts New Patients
• Offers Flexible Appointments.
Specialty:
CONDITIONS: Plantar Warts, Ingrown Toenails, Toenail Fungus, Athlete's Foot, Heel Pain (Plantar Fasciitis), Forefoot Pain (Metatarsalgia), Achilles Tendonitis, Posterior Tibial Tendon Dysfunction, Sesamoiditis, Stress Fracture, Morton's Neuroma, Ankle Sprain, Arthritis and Bunion PROCEDURES: Custom Orthotic Insoles, Shockwave Therapy & Swift Microwave Therapy
Insurance Accepted:
Contact:
Working Hours:
Mon-Fri: 9:30 am - 5 pm (By Appointment Only)
Sat & Sun: Closed
TBR® Inspection Report: