Finlandia Pharmacy & Natural Health Centre
Finlandia Pharmacy & Natural Health Centre, established in 1974, stands as a venerable institution dedicated to holistic well-being. Finlandia Pharmacy & Natural Health Centre is one of the Three Best Rated® Pharmacies in Vancouver, BC.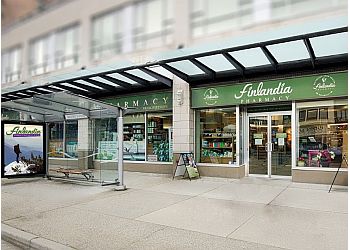 This center embraces the significance of prescription medications, particularly in acute scenarios, evident through their steadfast commitment to a comprehensive medical/compounding pharmacy. However, they transcend the conventional by emphasizing the cultivation of meaningful relationships with customers – an ethos that underscores their dedication to fostering healthful connections through exceptional customer service. In the realm of product offerings, Finlandia's unwavering commitment to quality shines through. A dedicated product development team ensures a meticulously curated selection of premium supplements and a diverse array of lifestyle-oriented products. Notably, their offerings extend to encompass an expansive natural beauty selection, catering to varying preferences and needs. At Finlandia Pharmacy & Natural Health Centre, your journey toward well-being is embraced with utmost care and dedication, embodying a philosophy that transcends the ordinary, ensuring your holistic health is nurtured and supported.


Refund may be returned to the original payment method or offered as Rewards Credit.
International orders will receive live shipping quotes upon checkout.
All orders placed on the weekends and holidays will be processed the next business day.
Delivery days may not include weekends and statutory holidays.
Nasal Sprays

Sublingual Troches

Cosmetics

Diabetes Support

Men's

Women's and Mental Health

Cold

Cough

Flu

Eye and Ear Care

Digestive Support

Pain Management

Dried Herbs

Vitamins and Supplements

Tinctures

Suppositories

Kids Care

Compounding Medication

Essential Oils

Respiratory & Bio-Identical Hormone Replacement Therapy
Me and my husband buy our NAC in their store. I tried ordering in their online store since we are busy and can't go to their physical store. Transaction is ok, delivery is within 3 days. My order was 180caps bottle of NAC and they sent 90caps bottle by mistake. But the good thing is they right away solved the problem and within the same day they delivered another 90caps bottle to complete the correct order. Thumbs up. Will order online again. And will buy in their physical store too. Thank you.
The best in town!! This is my go-to for herbs, supplements and tinctures. They have great experts always in store to help you out.
Great service and selection. Thank you very much for helping me with getting the supplement my mom needed.

Thanks everyone for the incredible service! Everyone I have spoken to has been so helpful and kind, including Patrick who I last spoke with. Every order has shipped quickly and arrives in perfectly safe condition! I even recommended this pharmacy to my doctor for her family member in need of an affordable out of pocket solution from a trustworthy company. Very happy to be a customer. - E
Discount
15% Off Applied to checkout
Mon-Sat: 9am - 7pm
Sun: 11am - 5:30pm
Nearby Pharmacies in Vancouver: