Marks Marine Pharmacy
Marks Marine Pharmacy, a cherished family-owned and operated establishment in Vancouver, BC, has been an integral part of the community for an impressive span of 47 years. Marks Marine Pharmacy is one of the Three Best Rated® Pharmacies in Vancouver, BC.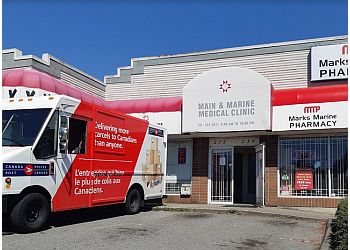 The enduring reputation of this pharmacy is a testament to its unwavering commitment to serving the local populace. At the heart of Marks Marine Pharmacy is a team of dedicated pharmacists and knowledgeable health consultants, each specializing in diverse health domains. Their expertise is merely a phone call away, ensuring constant accessibility for your health-related inquiries. One of the cornerstones of Marks Marine Pharmacy's ethos is the provision of personalized service. Every question you have is met with thorough and detailed answers, guiding you every step of the way toward making informed decisions about your well-being A distinctive feature of the pharmacy is its trio of walk-in doctors, readily available to welcome new patients. This proactive approach ensures quick access to medical attention when needed. With an impressive inventory boasting over 30,000 distinct brands and generic medications, Marks Marine Pharmacy stands as a comprehensive hub for pharmaceutical needs. This vast selection reflects their commitment to providing you with the options you require. In a testament to their dedication to customer satisfaction, Marks Marine Pharmacy offers a 100% satisfaction guarantee along with a commitment to match prices. This reflects their commitment to ensuring you are content with your experience.


Create your order and upload your prescription at the checkout.
Get your medications delivered right to your door.
Shipping Speed can be chosen
They Provide satisfaction guarantee.
Migraine

Cough

Cold

Depression

Menopause

Eyesight

Fitness

Kid's

Asthma

Diabetes Care

Rheumatoid Arthritis

Pain Relief

Digestion

Crohn's Disease

Skin Care

Dyslexia

Osteoporosis

Heart

Fibromyalgia

Flu

Respiratory Support

Stroke

Men's & Women's Health

Feet

Cholesterol

Senior Health

High Blood Pressure & Autism
My local vet recommended me to Mark's Marine Pharmacy because the pricing is far more reasonable than anything we could ever find in the states. What has become a very pleasant surprise is the level of customer service I've received: human beings actually answer the phones, return your calls, answer all your questions and give you options without you having to pull the information out of them. My kitty Lincoln and I are very grateful.
Fantastic experience. After weeks of trying to navigate though the US Doctor/Insurance/Pharmacy red tape, it was a refreshing change to talk to Katie at Marks' Marine Pharmacy. She helped me get the correct dosage approved from my doctor, explained the costs, shipping and the way to administer my new meds. Way more helpful than anyone I have talked to here in Florida. Highly recommend, I've already told co workers! Thank you for caring.
Best pharmacy ever! My insurance wouldn't cover a very expensive prescription but Mark's Marine Pharmacy only charged me 1/3 of the retail price in the USA. I don't know who Mark is but I could literally hug him. They have the BEST customer service. 100/10 would recommend!!
Tracked Parcel: $14.75
Expedited Parcel:$19.95
Express Parcel: $25
Rapid Airmail: $49.99
Mon-Fri: 8am - 5pm
Sat: 10am - 2pm Sun: Closed
Nearby Pharmacies in Vancouver: