Sina Pharmacy & Health Centre
Sina Pharmacy & Health Centre established in 2014, is a distinguished family-owned independent pharmacy that has carved a notable presence in the healthcare landscape. Sina Pharmacy & Health Centre is one of the Three Best Rated® Pharmacies in Vancouver, BC.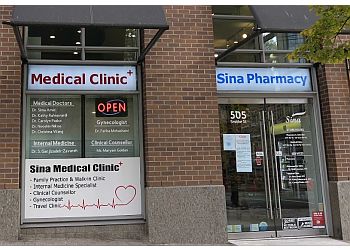 Their profound recognition of their pivotal role within the healthcare system, alongside the collaborative efforts of other healthcare professionals, underscores their comprehensive understanding of patient management. In alignment with their holistic philosophy, Sina Pharmacy acknowledges that prescription medications constitute only one facet of medical intervention. They champion the efficacy of natural products and lifestyle modifications as potent tools for both treatment and prevention, embodying a proactive approach to well-being. Beyond traditional pharmacy services, Sina Pharmacy houses in-house medical clinics featuring a roster of accomplished general practitioners (GP or MDs) and naturopathic doctors. This integration ensures that patients receive an exceptional spectrum of care, encompassing the best practices of both conventional and naturopathic medicine. A testament to their commitment to excellence, Sina Pharmacy meticulously curates a selection of premier brands across various categories. This dedication shines through in their offerings of over-the-counter and non-prescription products, serving as effective options for diverse treatment and prevention needs. Sina Pharmacy further demonstrates their dedication to community well-being by providing COVID-19 Antigen tests, exemplifying their unwavering commitment to contributing to public health. With a comprehensive vision and a holistic approach, Sina Pharmacy stands as a beacon of health and wellness within the community.


Online Appointment
Prescription order
Free Delivery
Travel Medications.
Blister Packaging

Compression Stockings

Skin Care

Medication

Natural Products

Smoking Cessation Services

Sports Medicine Compounding

Cold

Flu and Diabetes Care

Home Care Program

Private Medication Consultation

Supplements and Personalized Nutrition

Pet Products

Pediatric

Senior Health & Laboratory Testing
Great service, very knowledgeable and they really do care about helping their patients. One example: A family member requires an in-person daily medication and staff members meets them at the pharmacy on holidays including Christmas and Boxing Day!
My husband & I chose to use Sina Pharmacy & Organic Juice Bar for a 3 day juice cleanse this spring. What a wonderful experience! They were accommodating to customize the cleanse, juices were prepared & delivered fresh daily & every question we had & interaction we had with staff via email or in person was handled immediately & confidently. We really appreciated how nice everyone was. Great experience, highly recommend!
Great family owned pharmacy. They have everything you need and more. They do special compounding and carry a full dispensary of professional brand supplements. Best pharmacy in Vancouver!
Mon-Fri: 8:30am - 6pm
Sat: 10am - 5pm
Sun: Closed
Nearby Pharmacies in Vancouver: