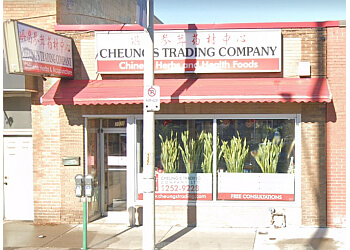 Cheung's Trading Company Limited is a family-operated establishment that holds the reins of a Chinese herbal wellness center. This clinic emerges as an ideal sanctuary for those inclined towards a more natural path to improved well-being. The focal objective of the clinic revolves around aiding patrons in attaining comprehensive wellness using Traditional Chinese Medicine, Acupuncture, and Chinese Cupping Therapy. Sau Wai-Mable Cheung, a licensed and actively practicing Acupuncturist, doubles as a Registered Traditional Chinese Medicine Practitioner. Her distinctiveness lies in being a pioneer in seamlessly merging her proficiencies in Acupuncture and Traditional Chinese Medicine. Armed with a Bachelor of Science degree from the University of Windsor, she graduated from the Institute of Chinese Medicine and Acupuncture in London, Ontario. Affiliation with the Chinese Medicine and Acupuncture Association of Canada further underlines her credentials. Mable's training encompasses cosmetic and medical acupuncture, a journey that took her to Canadian and Chinese institutions. A simple phone call is all it takes to secure an appointment, as they are primed to answer your inquiries and schedule your visit.

UNIQUE FACTS:
• Introducing Cosmetic and Cellulite Acupuncture
• Online Appointment.
Specialty:
Anxiety, Arthritis, Acid Reflux, Digestive Issues, Elbow Pain, Low Energy, Headaches, Migraines, Insomnia, Knee Pain, Menstrual Issues, Facial Paralysis, Immune Function, Post-Operative, TMJ, Depression, Menopause, Sinus Allergies, Neck Pain, Irritable Bowel Syndrome, Smoking Cessation & Weight Loss
$Price:
Acupuncture:
Initial Assessment & Treatment 30 min - $55
Subsequent Treatment 30 min - $55
Cosmetic Facial Rejuvenation 45 min - $95
Smoking Cessation 30 min - $65
Cupping Therapy 30 min - $55

Discount:
Birthday Special: 15% Off for your in-store merchandise purchase
Contact:
Working Hours:
Mon-Sat: 11am - 5pm
Sun: Closed
TBR® Inspection Report: