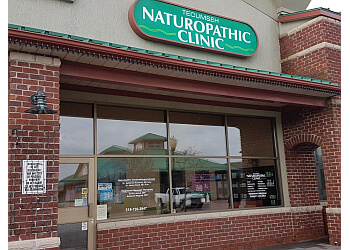 Tecumseh Naturopathic Clinic is a multidisciplinary clinic that focuses on promoting overall health using a variety of natural treatment options. Their friendly staff and relaxing atmosphere offer a positive setting for restoring and maintaining optimum health. The clinic offers a variety of services and can be utilized by people of all ages with varying levels of health. They are conveniently located just outside of Windsor in the beautiful town of Tecumseh. Dr. Katherine Kolowicz, ND is the owner of Tecumseh Naturopathic Clinic. Her goal is to offer clients strategies for optimizing their health that they will be able to follow. She has over 17 years of experience. She specializes in fertility, prenatal health, women's health, digestive concerns, autoimmune disease, pain management and children's health. Dr. Katherine Kolowicz offers Dietary Counselling, Acupuncture, Vitamins/supplements, Meal Planning, Cupping Therapy and Lifestyle Counselling. She is a licensed Naturopathic Doctor with the College of Naturopaths of Ontario and a registered Acupuncturist with the College of Traditional Chinese Medicine Practitioners and Acupuncturists of Ontario. They provide online booking for your convenience.

UNIQUE FACTS:
• Registered Naturopathic Doctor and An Acupuncturist
• Special Interest in Fertility, Prenatal Health, Women's Health, Digestive Concerns, Autoimmune Disease, Pain Management and Children's Health
• Clinic Features Two Dual Registered Naturopathic Doctors/acupuncturists and Two Registered Massage Therapists • 15 Min Complimentary Visit Is Available.
Services:
CONDITIONS:
Dietary Counselling, Vitamins/Supplements, Meal Planning, Cupping Therapy, Nutritional Counselling, Vitamin and Supplement Recommendations, Traditional Chinese Acupuncture, Digestive Support, Lifestyle Counselling and Stress Management, Anxiety, Stress, Depression, Insomnia, Smoking Cessation, Hyperactivity, ADHD, Immune Support, General Health Maintenance, Acne, Eczema, Psoriasis, Menopausal Symptoms, Menstrual Pain, PMS, Fibroids, Endometriosis, Pre and Post Natal Care, Infertility, Weight Management, Arthritis, Chronic Pain, Diabetes, Hypertension, Heart Disease, Allergies (Food and Environmental), Chronic Fatigue, IBS, Frequent Infections, Migraines & Headaches
$Price:
NATUROPATHIC MEDICINE
Naturopathic Adult First Visit 75 Min - $225
Naturopathic Follow up Visit 30 Min - $90
Naturopathic Adult First Visit - Telemedicine 75 Min - $225
Naturopathic Follow up Visit - Telemedicine 30 Min - $90
Naturopathic Child First Visit - Telemedicine 45 Min - $160.
Naturopathic Child First Visit 45 Min - $160
Naturopathic Long Follow up Visit 45 Min - $125
Naturopathic Short Follow up Visit 15 Min - $50
Naturopathic Extra Long Follow up Visit 60 Min - $175
Naturopathic Long Follow up Visit - Telemedicine 45 Min - $125st Be in Ontario at Time of Visit.

Naturopathic Short Follow up - Telemedicine 15 Min - $50
ACUPUNCTURE
Acupuncture Follow up Visit 30 Min - $90
Acupuncture First Visit 60 Min - $180

Contact:
Working Hours:
Mon-Thu: 9am - 6pm
Fri: 9am - 5pm
Sat: 9am - 1pm
Sun: Closed
TBR® Inspection Report: