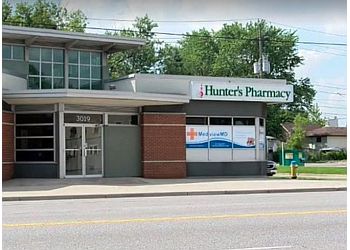 Hunters Pharmacy stands as an independent, community-oriented pharmacy dedicated to providing inventive solutions for the health and welfare of its valued patients. With a strong commitment to the well-being of the local community, the pharmacy effectively addresses a diverse range of healthcare necessities. From conventional pharmaceutical services to herbal recommendations and prescription delivery, Hunters Pharmacy offers a comprehensive spectrum of solutions tailored to the individual needs of its patrons. Central to their approach is the collaboration between their skilled pharmacists and their clients. This partnership aims to instill a sense of tranquility and foster a thorough understanding of prescribed medications among patients and their families. By ensuring clear comprehension, the pharmacy empowers its patrons to confidently manage their health. Hunters Pharmacy goes beyond the ordinary by assisting clients in selecting the most suitable glucometer, catering to their unique requirements. Notably, the pharmacy extends its commitment to safety through its Meds Check program. This program invites patients to engage in personalized, one-on-one consultations with pharmacists, lasting from 20 to 30 minutes. The objective is to ensure the safe and proper usage of various medications. Proudly serving Windsor, Hunters Pharmacy offers a myriad of pharmaceutical services, distinguishing themselves as a full-service prescription and compounding pharmacy. Their dedication to "making medicine" encompasses not only the products they provide but also the meaningful relationships they build within their community.

UNIQUE FACTS:
• Prescription Delivery
• Free Counselling & Consultations
• Free parking available.
Specialty:
Cough and Cold Capsules, Pediatric Flavoured Suspensions, Allergen-Free Formulations, Weight Loss Programs, Flu Shots Available, Medication Reviews, Saliva Testing for Adrenals, Lotions, Gels, Creams, Private Bio-Identical Hormone Consultations, Compression Stocking, Full Prescription Service, Compression Garments, Medication Tapering, & Ophthalmic Medications
Contact:
Working Hours:
Mon-Fri: 9am - 7pm
Sat: 9am - 2pm
Sun: Closed
TBR® Inspection Report: