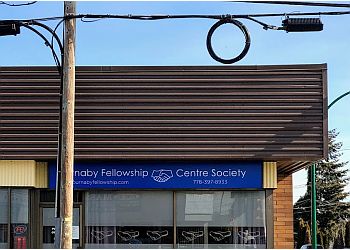 Burnaby Fellowship Centre stands tall as a pioneering force in addiction treatment within the city, offering a haven for individuals grappling with addiction. Their doors remain wide open, providing vital assistance to those in search of aid for their battles. As a non-profit corporation registered in British Columbia, Burnaby Fellowship Centre operates largely through the dedication of volunteers who pour their hearts into this noble cause. A beacon of hope, Burnaby Fellowship Centre extends its unwavering support to individuals, families, and communities in their pursuit of conquering alcoholism and addiction. Operating on a non-professional basis, their essence lies in offering peer support, providing a powerful source of camaraderie and empathy. Central to their impact is the Centre's role as a crucial meeting space for a multitude of 12 Step Groups in the region. Week after week, their doors witness an inspiring flow of 200 to 500 individuals, all seeking solace and guidance on their path to recovery. Though their society membership may be modest, the ripple effect of their positive influence resonates across the entire community. Burnaby Fellowship Centre extends a warm welcome to volunteers who share their dedication to the cause, inviting them to contribute and take part in planning various activities. In essence, the Centre stands as a cornerstone of support, providing a lifeline to those navigating the intricate journey of addiction recovery.

UNIQUE FACTS:
• 12 step program of Recovery
• Study Groups
• Volunteer work
• Safe and Secure Healing place.
Specialty:
Alcoholism and Addiction & Fellowship Meeting
Contact:
Working Hours:
Mon-Thu, Sat & Sun: 10am - 10pm
Fri: 10am - 12pm
TBR® Inspection Report: