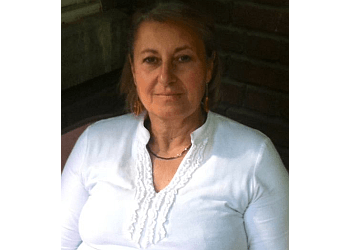 Estela Sasson is a highly trained and experienced hypnotherapist and holistic life coach based in Montreal. Alongside her expertise in hypnotherapy and life coaching, she is certified in Reiki levels I and II and practices as a Life Regression Practitioner (QHHT). With her diverse skill set, Estela assists clients from various backgrounds and with different challenges and aspirations. Her focus is helping individuals navigate life transitions and overcome fears, anxieties, and self-doubt. Rest assured, all sessions with Estela are safe and confidential. One of her specialties is Quantum Healing Hypnosis Technique, through which she facilitates physical healing for her clients. Estela possesses the tools and deep understanding required to guide you in creating the life you envision, helping you rediscover your true self. Each session is personalized to address your specific needs and goals. Estela Sasson is well-equipped to assist with various issues, whether breaking free from unhappiness, building trust in your instincts, identifying the root causes of overeating, or manifesting your desires. Her services are offered in multiple languages, including English, French, Russian, Spanish, and Hebrew, ensuring accessibility to a diverse clientele. If you are in the greater Montreal area in the province of Quebec, do not hesitate to contact Estela Sasson for her expert hypnotherapy services.

UNIQUE FACTS:
• Pay Online
• Gain a greater awareness of your life purpose
• Explore Karmic patterns which involve spiritual lessons
• See your connections with current family members and friends
• Transform stuck patterns and view significant relationships more clearly.
Specialty:
Anxiety, Coaching, Happiness-Hypnotherapy, Past-Life Regression, Positive Thinking, QHHT, Self Care, Self-Esteem, Self-Love, Soul Connection, Addictions, Childhood Trauma, Depression, Healing Diseases Hypnotherapy, Love, Relationships, Social-Anxiety, Stop Smoking, Weight Loss

Serving Locations:
NDG, Westmount, Snowdon, Cote des Neiges, Cote Ste Luc & Outremont
Contact:
Working Hours:
Mon-Thu: 9am - 7pm
Fri-Sun: Closed
TBR® Inspection Report: