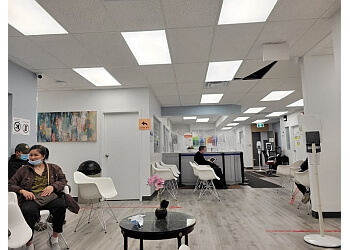 Clinique Médicale Diamant is a highly esteemed clinic in Montreal, QC being among the pioneers to adopt electronic medical records back in 2000. Their primary objective is to achieve a fully paperless system. Utilizing an electronic health record (EHR) software accredited by the Minister of Health, their physicians can securely access and review patients' complete medical histories within the clinic. Working collaboratively with Info-Santé, nearby CLSCs, and hospitals, Clinique Médicale Diamant's interdisciplinary team provides comprehensive and high-quality health care services. Each patient benefits from a unified file shared among all health professionals at the clinic, enabling instant access to patient history, lab results, and other diagnostic reports. Their motto reflects their commitment to delivering excellence in health services to their patients. Whether individuals are traveling for business or leisure, the clinic strongly advises them to take precautions against infectious diseases prevalent in tourist areas.

UNIQUE FACTS:
• General Medicine services are available both with and without the need for an appointment.
• Child immunization
• Specialized Medicine:
• Laboratory, Imaging and Radiology Services.
Specialty:
Obstetrics, Gynecology, Nephrologist, Travelers Clinic, Cardiology, Urology, Endocrinology, Internal Medicine, General Surgery, Fractures & Ear Nose Throat (ENT)
Contact:
Working Hours:
Mon, Thu & Fri: 8am - 4pm
Tue: 8am - 8pm
Wed: 8am - 7pm
Sat & Sun: 8am - 12pm
TBR® Inspection Report: