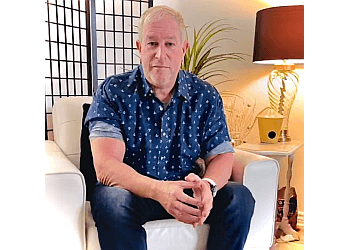 New You Hypnosis with Matt Bloom is a hypnotherapy centre in Whitby, Canada. Matt Bloom is not only a certified hypnotist but also a motivational speaker. With over a decade of experience, he has been dedicated to aiding clients in reaching their aspirations. At his centre, individuals are welcomed into a warm environment conducive to making positive transformations, overcoming self-sabotage, and embarking on a happier and healthier journey. Matt Bloom employs an affordable approach that caters to the entire family, spanning various age groups, enabling each member to pursue their objectives. He has curated several hypnosis treatment packages and follow-up audio mp3 resources. Matt hosts "A New Day with Matt Bloom" on RogersTV and holds a Private Pilot License. Matt fosters an inclusive atmosphere in his office, promoting a judgment-free space. Every program he devises is customized to suit the individual and their unique situation. For many, this process marks a complete rebirth, facilitating the realization of their untapped potential. Others aim to reconnect with their former selves, while certain individuals strive to refine specific facets of their lives, whether in their professional pursuits or family dynamics. He helps them break free from the constraints of the past and progress in a manner that nurtures improved mental and emotional well-being, inner calm, and self-confidence.

UNIQUE FACTS:
• Provides Professional and Affordable Services
• Offers Services Discreetly and With Compassion
• Creates a Relaxing Atmosphere Conducive to Healing
• Offers an Initial Complimentary Consultation
• Provides Phone Consultations
• Offers Discounted Rates
• 3,500 Individuals with Extraordinarily High Success Rates Compared to Other Therapies
• Many Clients Experience Noticeable Changes in Their Well-Being After Just a Few Initial Sessions.
Specialty:
Temper, Concentration, School Stress, Exam, Homework-Stress, Goal Setting, Sleeping Disorder, Nail Biting, Hair Pulling, Bed Wetting, Anxiety and Negativity, Quit Smoking, Weight Loss, Fit Mind, Fit Body, Life Coaching, Anxiety, Depression, Confidence, Self-Esteem, Self-Doubts, Self-Sabotage, Anger, Guilt Management, Bad Habits, Self-Destructive Behavior's, Insomnia, Procrastination, Career Success, Fears, Phobias, Relationship Issues, Academic Success & Sports Performance

Serving Locations:
Ajax, Brooklin, Durham, Oshawa & Whitby
Contact:
Working Hours:
Mon: 12pm - 8pm
Tue-Fri: 9pm - 6pm
Sat: 10am - 1pm
Sun: Closed
TBR® Inspection Report: