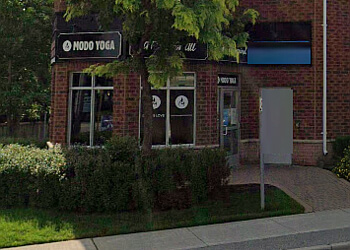 Modo Yoga Brooklin presents a comprehensive array of wellness options, including both invigorating Heated and calming Non-Heated Yoga, engaging Pilates sessions, and an array of holistic Wellness Services. In step with the modern age, they cater to diverse preferences by providing virtual, outdoor, and indoor yoga and pilates classes. Beyond their commitment to individual well-being, they stand as a united force in their mission to foster a sustainable world. Welcoming individuals from all walks of practice, whether neophytes taking their first steps into these disciplines or seasoned practitioners refining their expertise, Modo Yoga Brooklin ensures inclusivity through accessible classes that promise both challenges and enjoyment. The studio's dedication to convenience is evident through their versatile class offerings, which can be enjoyed virtually, outdoors, or within the studio's indoor sanctuary.

UNIQUE FACTS:
• Over 70 Studios Worldwide
• Offer Donation-Based Classes to Raise Funds for Local and International Not-For-Profit Organizations
• Offering Yoga Classes at A Reduced Price.
Specialty:
Modo, Modo Flow and Jam, Vinyasa, Strong, Fundamentals, Restorative, Beginners, Flow, Karma, Trance Flow, Core Power Vinyasa, Yin and Yang Yoga, Barre Fusion, Pilates & Restorative
$Price:
Drop-In - $22
Intro Month - $49
5 Class Card - $95
Freedom Monthly Membership - $110/MONTH
Freedom Year Membership - $1100/YEAR

Discount:
15% off most retail items - 15% off workshops
Contact:
Working Hours:
Mon: 6am - 1pm|4:45pm - 8pm
Tue: 6:15am - 1pm|5:45pm - 9pm
Wed: 6:15am - 1pm|4:45pm - 8pm
Thu: 6:30am - 1pm|5:45pm - 9pm
Fri: 6:30am - 11am|4:30pm - 7:30pm
Sat: 8:15am - 12pm
Sun: 8:15am - 1pm
TBR® Inspection Report: