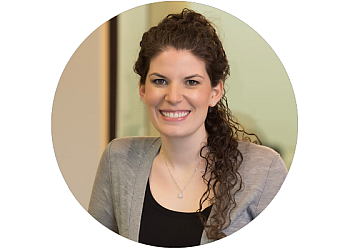 Dr. Emily Singer, a certified orthodontist located in Whitby, is a distinguished professional with her academic roots at the University of Western Ontario. She furthered her education by successfully completing both a Doctorate of Dental Surgery and a Master of Science in Orthodontics at the University of Toronto. Dr. Emily Singer is proud to serve her patients at Taunton Orthodontics. The dedicated team at Taunton Orthodontics shares a common commitment to delivering top-notch orthodontic care in a welcoming and inviting setting. Their practice is distinguished by the integration of advanced technologies, including digital X-rays and impressions facilitated by the iTero intraoral digital scanner. Your orthodontic journey with them starts with a comprehensive assessment that includes diagnostic imagery such as teeth X-rays and impressions when necessary. To support your oral hygiene during your orthodontic treatment, the clinic provides you with an oral hygiene starter kit upon the initial placement of braces. Their knowledgeable staff also takes the time to instruct you on the proper techniques for brushing and flossing. Taunton Orthodontics extends their commitment to your convenience and comfort by offering zero-interest payment plans, flexible appointment scheduling, and a wide array of treatment options. These options encompass both metal and ceramic braces, as well as Invisalign, ensuring you have a range of choices that cater to your unique needs and preferences.

UNIQUE FACTS:
• Provide a Complimentary Consultation
• Automated Email Reminders for Appointments and Convenient Access to Your Personal Patient Portal 24/7
• Flexible Appointment Times Offered 5 Days a Week.
Specialty:
CONDITIONS:
Correcting Jaw Irregularities

PROCEDURES:
Early and Surgical Orthodontics, Life with Braces, Adolescent and Adult Treatments, Clear Aligners, Invisalign, Retainers, Loose Brackets and Wires, Metal, Brushing and Flossing, Mouth Guards & Ceramic Braces
Awards:
UWO Gold Medal in Science & Governor General's Silver Medal
Contact:
Working Hours:
Mon-Thu: 8:30am - 5pm
Fri: 8:30am - 4:30pm
Sat & Sun: Closed
TBR® Inspection Report: