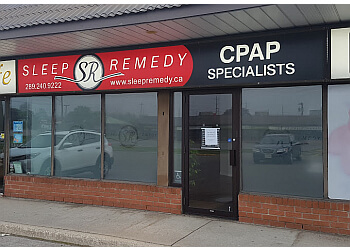 Sleep Remedy is a comprehensive range of treatments for various sleep disorders are readily available to patients. With an unwavering commitment to excellence, the clinic offers an impressive selection of high-quality sleep apnea products and exceptional customer service. A distinct specialization of The Sleep Remedy is effectively addressing obstructive sleep apnea. The clinic believes each client merits a personalized care pathway tailored to their unique needs. This patient-centric approach underscores their dedication to comprehensive and individualized care. The clinic's overarching objective is to guide patients toward complete recovery from various sleep disorders. This commitment is manifested through their expert team, which consistently strives to provide effective solutions that facilitate improved sleep and well-being. A standout feature of The Sleep Remedy is their ongoing educational support and a reliable supply of top-rated OSA therapy products. The clinic goes beyond treatment, offering valuable services such as free compliance and therapeutic monitoring, ensuring patients' ongoing success. Through precise sleep diagnosis and a customized treatment approach, The Sleep Remedy aims to cater to the specific needs of each individual. For those seeking enhanced sleep quality and overall well-being, contacting The Sleep Remedy to schedule an appointment is a step towards attaining improved sleep and a revitalized lifestyle.

UNIQUE FACTS:
• Free Consultations
• Free Mask and Device Trials
• Parking Available
• Wheelchair Accessible.
Specialty:
Obstructive Sleep Apnea, Sleep-Disordered Breathing, Excessive Daytime Sleepiness, Dry Mouth or Sore Throat, Chocking or Gaspimg While Sleeping, Weight Gain, Loss Memory, Trouble Staying Awake Throughout the Day, Headaches, Sense of Unwarranted Fatigue, CPAP Equipment and Supplies for Sleep Apnea, Central Sleep Apnea & Narcolepsy
Contact:
Working Hours:
Mon-Fri: 9:30am - 5pm
Sat & Sun: Closed
TBR® Inspection Report: