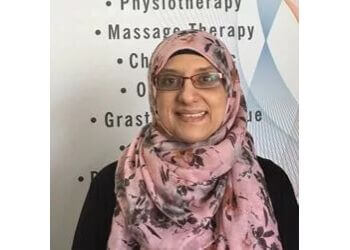 Ghada Shendy holds the title of Registered Physiotherapist in Ontario, boasting her educational journey through the attainment of Bachelor's and Master's degrees in Physical Therapy from the University of Cairo in Egypt. With an illustrious career, she served as the head of the Department of Physical Therapy at the College of Health Science For Girls and The University of King Abdel Aziz in Saudi Arabia. Ghada Shendy's area of specialization encompasses manual therapy and pelvic floor care. She is fervent about delivering optimal care to her patients, employing cutting-edge and efficacious treatment approaches for musculoskeletal injuries. Within the premises of Physio Care Physiotherapy, she operates as a physiotherapist. The clinic's services span the provision of custom-made orthotics and compression stockings. Notably, they accommodate diverse insurance types, excluding OHIP, and possess notable expertise in handling Motor vehicle accidents (MVA) and WSIB cases.

UNIQUE FACTS:
• They accept all insurance companies direct billing.
• One-to-one treatment.
• Evening and weekends Appointments available.
• PHYSIO CARE PHYSIOTHERAPY has More than 25 years of clinic experience.
Specialty:
CONDITIONS:
Sprains, Arthritis, Strains, WSIB, Motor Vehicle Accidents (MVA), Plantar Fascitis and Rotator Cuff, Golfer Elbow, Neck Stiffness, Sports Injuries, Tennis, Back, TMJ, Sciatic Pain, Tibialis Anterior Syndrome, Pelvic Floor & Dysfunction

PROCEDURES:
Physiotherapy, Chiropractic, Massage, Osteopathy, Shockwave, Bioflex laser, Graston and Spinal decompression therapy, Post-Surgical Rehabilitation, Active Release Technique, Cupping & Neurological Condition
Contact:
Working Hours:
Mon-Fri: 9am - 8pm
Sat: 9am - 3pm
Sun: Closed
TBR® Inspection Report: