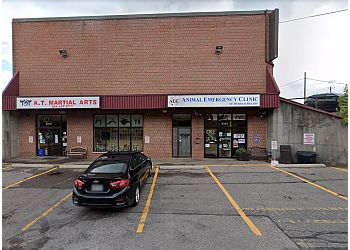 Animal Emergency Clinic of Durham Region is one of the leading veterinary clinics in Whitby. Their staff consists of Emergency Veterinarians, Technicians, and Animal Care Attendants with many years of emergency practice experience. They offer a wide range of services, including medical, diagnostic, surgical and emergency care needs for your Dogs and Cats so that they can live a longer, happier life. They believe in continuously upgrading their skills and sharing their expertise with other veterinary teams. They are equipped with digital radiography, surgery and anesthesia, blood diagnostics, blood transfusions and nursing care for your pets. They offer various on-site services, including emergency and critical care, ultrasound and diagnostic imaging, surgical procedures and more. They provide affordable financing options for their clients. They are open 24 hours on weekends and holidays. They did not charge for emergency cases. We're always committed to seeing you and your pet promptly. However, if they have a life-threatening emergency you may have to wait until that critical patient is stabilized. This depends on the number of doctors on duty and the severity of the emergency.

UNIQUE FACTS:
• Finance For pet's healthcare.
• Transfer Toolkit
• Wheelchair Accessible.
Specialty:
Anesthesia and Patient Monitoring, Medical and Surgical Services, Difficulty Breathing, Dilated Pupils, Lethargy/Weakness, Loss of Appetite, Pain, Pale Gums, Restlessness and Excessive Panting, Unproductive Retching, Emergency and Critical Care, Not Urinating, Vomiting or Diarrhea, Unable to Walk, Veterinary Exams & Unsteady on Their Paws
Contact:
Working Hours:
Mon-Fri: 7pm - 8am
Sat & Sun: Open 24 Hours
TBR® Inspection Report: