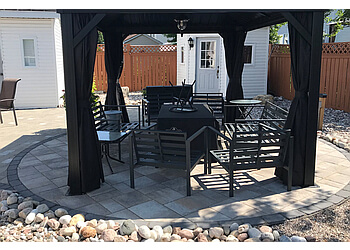 Weeping Willow Landscape is one of the experienced landscape and snow removal companies in the Gatineau region. The company collaborates closely with its design and consulting experts, and you can be assured that selecting the appropriate block or stone for your retaining or decorative wall project is in capable hands. This meticulous approach ensures that you achieve optimal results. Expect to receive captivating designs and groundbreaking solutions that align seamlessly with your preferences. Driven by an ethos of diligence and innovation, they are unwavering in their pursuit of excellence, constantly striving to set the industry benchmark. Their overarching objective centers on delivering unmatched customer service and superior craftsmanship at a cost that's within reach. The crux of their mission is to fulfill their client's needs to the fullest. Moreover, Weeping Willow Landscape goes beyond by offering you a virtually maintenance-free property, providing lasting value for years.

UNIQUE FACTS:
• Free Estimate
• Customer Satisfaction
• Guaranteed Services.
Specialty:
Landscape Design, Retaining Walls and Stairs, Walkways, Driveways, Patios, Pool Sides, Maintenance, Garden Beds, Outdoor Kitchens, Fireplaces, Grading, Interlock, Trenching, Excavation for Foundation Repairs, Site Clearing, Ponds, Waterfalls, Sod Installation, Paving Stones & Snow Removal Service
$Price:
Snow Removal Seasonal Starts from $300
On call Services Starts from $40

Contact:
Working Hours:
Mon-Fri: 8am - 4pm
Sat & Sun: Closed
TBR® Inspection Report: