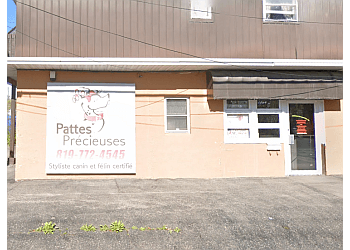 Pattes Precieuses stands as a renowned pet grooming establishment within Gatineau. The dedicated team of adept groomers and stylists, specializing in both canines and felines, ensures meticulous attention for your beloved pet. Each visit to Pattes Précieuses guarantees access to a staff proficient in ensuring your pet's comfort, providing professional and compassionate animal care. Their range of services encompasses styling for dogs and cats, an offering that promises to delight pet owners as much as it does their furry companions. Within the premises, your four-legged friend benefits from the skillful touch of a certified master groomer, continuously updated on the latest advancements in animal care practices. The facilities at Pattes Precieuses are thoughtfully designed to offer a secure and cozy environment. Their canine and feline stylists wield scissors with dexterity and an eye for perfection, crafting cuts and styles that not only meet but exceed expectations. Central to their ethos is a strong dedication to animal welfare, a principle that takes precedence in the endeavors of their grooming specialists.

UNIQUE FACTS:
• Animal Friends
• Grooming Specialists
• Animal Welfare Is the Priority
• They Guarantee Their Work
• Quality and Cleanliness of Their Services
• National Groomer Association of Canada
• National Cat Groomers Institute of America Inc.
Specialty:
Grooming and Shearing for Dogs and Cats, Animal Care, Canine Stylist, Feline Stylist, Hair Coloring, Scissor Cut, Nail Clipping, Specialized Shampoo & Haircut
Contact:
Working Hours:
Tue-Sat: 7am - 5:30pm
Mon & Sun: Closed
TBR® Inspection Report: