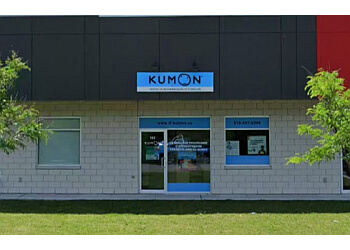 Kumon holds a distinguished position among educational institutions. With a history spanning more than sixty years, the Kumon afterschool program has played a crucial role in steering children worldwide towards achievements. Their objective revolves around nurturing a desire for greater accomplishments and fostering self-driven learning. Operating on a global level, Kumon's afterschool program has enabled the success of countless children. Encompassing a range from preschool to grade 12, this tutoring center provides tailored lessons. Their robust emphasis on personalized learning empowers your child to cultivate focus, motivation, and independence. The tutors, all possessing professional certifications and extensive expertise in specific subjects, contribute to this enriching journey. Kumon firmly believes that a strong academic foundation and adept critical thinking and problem-solving skills empowers your child to materialize their aspirations. This foundational belief underscores their dedication to facilitating your child's educational advancement and the realization of their ambitions.

UNIQUE FACTS:
• Proficiency in math and English to get better grades in school
• Consolidation of essential school skills such as confidence, concentration and work ethic
• Reduced homework stress and exam anxiety.
Specialty:
Solving Equations, Understanding Paragraphs, Sentence Building, English, Vocabulary, Grammar, Trigonometry, Algebra, Probability, Graphs, Logarithms, Comprehension, Calculus, Summary, Punctuation, Statistics, Phrases, Number Sequencing, Maths, Reading & Counting
Contact:
Working Hours:
Tue-Thu: 11am - 7pm
Sat: 9am - 12:30pm
Fri, Sun & Mon: Closed
TBR® Inspection Report: