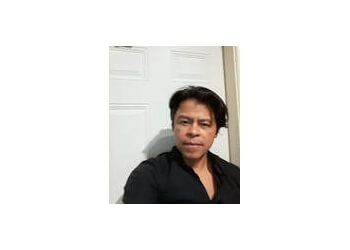 Gerardo Ponce serves as a skilled Osteopathic Manual Practitioner within the Osteopathy RMT Relief Clinic, bringing a wealth of experience to his practice. He achieved his education milestones at the Southern Ontario College of Osteopathy as well as the Academy of Acupuncture and Integrative Medicine in Toronto. Gerardo is not only a Registered Osteopathic Manual Practitioner but also a Registered Acupuncturist, holding accreditation from the Ontario Federation of Osteopathic Professionals. Gerardo has attained advanced proficiency across six levels of CranioSacral Therapy training from the esteemed Upledger Institute, which includes a specialization in SomatoEmotional release. His particular passion revolves around fostering harmony and equilibrium in the realms of pregnancies, newborns, and babies who have experienced challenging births or trauma. Gerardo boasts a wealth of clinical expertise in manual medicine, having actively practiced in Toronto, Mississauga, and London, Ontario. His treatment approach, which seamlessly integrates osteopathy, Cranial Osteopathy, Craniosacral Therapy, Visceral Manipulation, Acupuncture, and Massage Therapy, has proven highly effective. Notably, he is fluent in both English and Spanish, facilitating clear communication and understanding with a diverse range of patients.

UNIQUE FACTS:
• Obtained Advanced 6 Levels Training in Cranio Sacral Therapy
• Treated Newborns/babies, and Children
• Clinical Experience in Manual Medicine in Toronto, Mississauga, & London, Ontario.
Specialty:
CONDITIONS:
Women's Pelvic Health, Painful Menstruation/Dysmenorrhea, Chronic Women's Pelvic Dysfunctions, Pelvic Floor Dysfunctions, Menstrual Related Pain/Pms, Stress/Anxiety, Asthma, Post Concussion Syndrome, Scoliosis, Alleviate Parkinson Symptoms, Low Back Pain, Disc Bulging /Herniated Disc, Sciatica Pain, Fibromyalgia, Hip/Knee/ Ankle Pain, Neck and Shoulder Pain, Carpal Tunnel Syndrome, Arthritis Related Pain, Repetitive Strain Injuries, Postural Problems, Digestive Problems, Breathing Difficulties, Incontinence, Pre/Post Pregnancy Related Discomforts, Harmonize Healthy Pregnancy, Children Behavioural Issues, Add/Adhd, Autism, Pelvic/Coccyx-Tailbone Pain Dysfunctions, Infertility & Sacroiliac Joint Dysfunctions
$Price:
Initial visit includes assessment and treatment 60 minutes $146.90 + HST Follow-up visit 30 minutes $90.40
Follow-up Visit 45 minutes $124.30
Follow-up Visit 60 minutes $158.20
PEDIATRIC (Newborns/Babies) OSTEOPATHY: $65
Initial visit includes assessment and treatment 60 minutes $107.35 + HST
Follow-up visits 30 minutes $79.10 + HST

Discount:
Acupuncture Off : Initial visit is $42.00 (Regular price - $100)
Insurance Accepted:
Manulife, Sunlife, Greenshields, Blue Cross, Canada Life, Equitable Life & Standard life
Contact:
Working Hours:
Tue-Thu: 9am - 7pm
Fri: 9am - 5pm
Sat-Mon: Closed
TBR® Inspection Report: