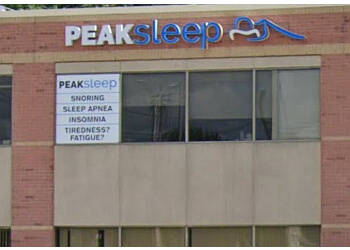 London PEAK Sleep Clinic is a premier establishment among sleep clinics in London, Canada. Their core objective is delivering the utmost quality in comprehensive multi-disciplinary sleep care. A point of pride for them is their distinction as Canada's most dependable and versatile sleep care consortium, encompassing a broad spectrum of services ranging from medical intervention for snoring and sleep apnea to sleep surgery, cognitive behavioural therapy, and dental sleep medicine. At London PEAK Sleep Clinic, sleep studies are conducted in both overnight and daytime settings, tailored to specific needs. The clinic boasts an inclusive range of diagnostic and therapeutic sleep studies designed to cater to patients' requirements. The clinic places a strong emphasis on accessibility, offering both in-person clinical consultations and telemedicine services via the Ontario telemedicine network. A remarkable feature is their commitment to rapid response for urgent pre-operative studies, guaranteeing results within ten days or less. Sleep studies are accommodated seven days a week within modern, comfortable facilities, prioritizing patient comfort and convenience. To initiate a journey towards enhanced sleep and well-being, contacting the London PEAK Sleep Clinic is straightforward. Whether for consultation, telemedicine, or urgent studies, they are dedicated to helping you achieve a better night's sleep.

UNIQUE FACTS:
• Diagnostic Sleep Testing
• Clinic and Home Sleep Testing.
Specialty:
Obstructive and Central Sleep Apnea, Insomnia, Restless Legs Syndrome, Depression, Dry Mouth After Sleep, Parasomnias (Abnormal Behaviors of Sleep), Narcolepsy, Shift Work Sleep and Circadian Rhythm Disorders, Poor Sleep Hygiene, Sleep Surgery and Psychology, Snoring & Bruxism (Teeth Grinding)
Contact:
Working Hours:
Mon-Fri: 9am - 5pm |
8pm -10:30pm
Sat & Sun: 8pm - 10:30pm
TBR® Inspection Report: