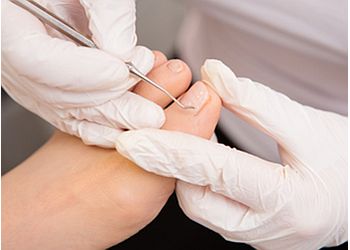 R.L. Goossens stands as a certified podiatrist based in London. He achieved the distinction of Doctor in Podiatric Medicine after completing his education at the Ohio College of Podiatric Medicine. His specialized focus lies in alleviating an array of foot concerns, ranging from wart removal to the creation of tailor-made orthotics. Under his care, you can be assured of receiving the essential treatments needed to regain comfortable mobility. Dr. Goossens maintains active membership in prestigious organizations including the Ontario Podiatric Medical Association, the American Podiatric Medical Association, and the Canadian Federation of Podiatric Medical Association. His office boasts a central location and provides the added convenience of free above and underground parking, all while ensuring full wheelchair accessibility. Employing advanced techniques as a hallmark of his practice, he integrates laser and shockwave treatments to rectify foot-related issues. His approach includes painless technologies such as Swift treatment, Storz Shockwave, Theralase, and Lunula, all aimed at effectively addressing stubborn plantar warts. Driven by his extensive clinical experience, he remains dedicated to providing patients with respite from incapacitating symptoms and persistent foot ailments.

UNIQUE FACTS:
• Over 46 Years of Experience
• They Offer Flexible Appointments
• They Use Latest Technologies.
Specialty:
CONDITIONS:
Surgery for Ingrown Toenails, Shockwave Treatments, Prescription Orthotics and Custom Shoes, Wart Care, Diabetic Foot Care, Plantar Wart, Custom Orthotics, Laser Treatments for Toenail Fungus and Foot Pain, Complete Foot Care & Plantar Fasciitis
$Price:
First Visit $135
Follow up Routine Visits Are $80

Contact:
Working Hours:
Mon-Fri: 8am - 12pm|1pm - 4pm
Sat & Sun: Closed
TBR® Inspection Report: