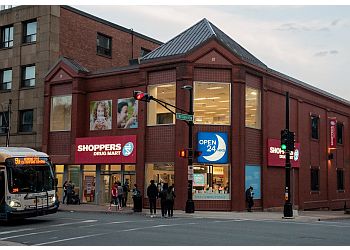 Shoppers Drug Mart stands as one of the renowned pharmacies in Halifax, NS. With a commitment to providing an array of resources, their aim is to bring you optimal bargains coupled with secure, efficient, and prompt assistance. Jennifer Chafe, the Pharmacist Owner, is dedicated to aiding you in managing your medications, addressing your inquiries, and offering expert advice for enhanced safety oversight. They comprehensively fulfill all pharmaceutical needs, assisting you through tailored action plans and aiding in selecting suitable smoking cessation aids. The establishment also houses experts in medical supplies and cosmeceuticals. A private therapy room within the clinic ensures confidential counseling sessions, fostering a strong patient-trust dynamic.

UNIQUE FACTS:
• Get care on the PC Health app
• Refill Prescription Online
• Travel Health Consultations
• Blood Pressure Checks.
Specialty:
Flu Shots, Sinusitis, Pneumonia, Personal Care, A1C Testing, Diet, Fitness, Health Information, Vaccinations, Diabetes, Heart Health, BMI Calculator, Beauty Products, Vitamins, Nausea and Vomiting, Insomnia, Quick Refills, Anemia, Arthritis, Diaper Rash, Whooping Cough, Tendinitis Transfer Prescription & Home Medical Equipment
Contact:
Working Hours:
TBR® Inspection Report: