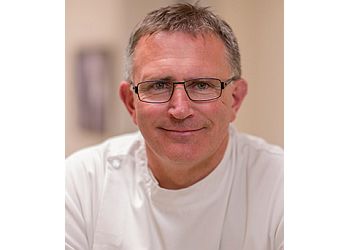 Dr. Jeremy Lewis is a committed podiatrist located in Halifax, where he diligently administers comprehensive foot care to address various injuries, illnesses, and conditions. He is adept at treating both acute and chronic injuries across all age groups. Employing Foot Mobilisation Techniques, Jeremy strives to enhance foot functionality. Drawing upon clinical diagnoses and biomechanical/gait analyses, he customizes foot orthoses that are designed to optimize foot and lower leg performance. With a rich background, including a decade of service within the UK's National Health Service across Buckinghamshire and East Sussex, Jeremy has garnered vast experience in diverse Podiatric roles spanning community and hospital clinics. His overarching objective consistently centers on delivering the highest standards of care to his patients. Operating within the sphere of Foot Fix since 2002, Dr. Lewis contributes to providing top-notch, specialized foot care for Nova Scotians. The foundation of their reputation is rooted in a personalized approach that tailors treatment to patients' individual needs. They excel in precise diagnosis and proceed to recommend and carry out necessary interventions to facilitate patients' return to optimal foot health.

UNIQUE FACTS:
• The Clinic Has Lots of Parking
• They Use Lastest Technologies.
Specialty:
CONDITIONS:
Foot Maintenance, Diabetic Footcare, Plantar's Wart, Callus Reduction, Corn Enucleation, Custom Orthotics, Nail Surgeries, Sports Injuries & Foot Mobilisation Techniques
Insurance Accepted:
Contact:
Working Hours:
Mon, Tue, Thu & Fri: 7:30am - 4:30pm
Wed: 9am - 4:30pm
Sat & Sun: Closed
TBR® Inspection Report: