Foundations Dance Company
Foundations Dance Company stands as the foremost educational hub in Niagara Falls. Foundations Dance Company is one of the Three Best Rated® Dance Schools in Niagara Falls, ON.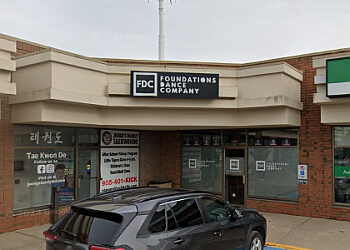 Overseeing the dance school are Amanda Bruton and Felicia Mastromatteo, who hold positions as directors. Their guiding belief is that dance instruction extends beyond movement, encompassing valuable life lessons. Within their teachings, they instill the principles of perseverance, dedication, collaboration, and leadership. Open to individuals of all ages and skill levels, the school presents a diverse array of classes. The faculty consists exclusively of extensively trained and certified instructors who offer comprehensive support both physically and mentally to their students. In addition, Foundations Dance Company hosts summer dance camps as part of its offerings. They emphasize the bonds forged among dancers and their families, as well as the unique connections between students and their mentors. Recognizing the significance of shared memories, the school values the notion that fostering relationships is just as pivotal as nurturing artistic growth and academic development.


Three Studios with Wall-To-Wall Mirrors and Sprung Floors
Homework Table with Fridge and Microwave.
CLASSES: Jazz

Tap

Ballet

Modern

Acro

Lyrical

Hip Hop & Contemporary
My daughter started her dance career with these 2 amazingly talented caring teachers. They commit and form bonds with each and everyone of their students on and off the dance floor. This is a true family.
This is a great place my daughter is very happy. Their recitals are gray and they have an amazing management from what I understand from my daughter and her mom.
New studio in Niagara! Awesome crew of teaching staff. They are dedicated, funny and do an incredible job with the kids.
Recre Ational Summer Classes:
Summer Ballet $75
Parent Tot $60
Summer Hip Hop $75
Summer Swag
Ages 6-8 - 4:30-5:30 -$70 + Hst
Ages 9-12 - 5:30-7:30 - $120 + Hst
Ages 13+ - 7:30-9:30 - $120 + Hst
Nearby Dance Schools in Niagara Falls: