Wendy Leard School of Dance
For over 40 years, the award-winning Wendy Leard School of Dance has been teaching the "Joy of Dance" and blowing audiences away with their year-end showcase performance. Wendy Leard School of Dance is one of the Three Best Rated® Dance Schools in Niagara Falls, ON.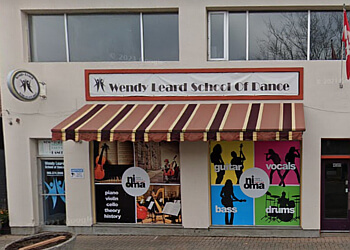 Their mission is to provide a safe, fun learning atmosphere for all ages to express their passion for dance. Their classes are 45 minutes for 3-5-year-olds and one hour for six years and up. At that time, the students receive warmup exercises, technical training and time to dance. They are following all government guidelines to keep their dancers safe during these trying times. They want to ensure that everyone stays healthy to share their Joy of Dance.


On-site services
Year-end shows.
CLASSES: Kids

Teen

Adult Dance Classes

Joy of Dance and Mini Tap

Boys Dance

Jazz

Tap

Ballet

Hip Hop

Musical Theatre

Irish

Acro

Lyrical

Modern

Jazz Funk & Contemporary
Wendy Leard School of Dance is nothing but professional and caring. Wendy and her staff show compassion, professionalism and dedication to the kids in the studio. Not only do her teachers VOLUNTEER their time so kids have a place to dance and show their expressions, they also continually take time out of their lives and family to ensure their teaching qualification is current. Wendy and her staff put the kids first and if you have ever gone to another dance studio you would not question that. Wendy's prices are minimal and having my son dance in numerous classes, paying a set amount is key. Anyone I have talked to cannot believe how inexpensive my sons dance is for the number of classes he is part of. Wendy ensures that all kids have the same experience in the showcase, so that the theatre is still full for the other kids. Nothing is worse than having people walk out during your performance. Or feeling like you don't matter as much as the next kid. Showcase maybe 3 hours but when you see the smiles on all of the kids faces, the kids downstairs while waiting for their number copying the other classes dances and making new friendships. You can see, Wendy Leard School of Dance is more than just a dance studio. It is a family and one in which it's nice to have the right people part of. A dance school doesn't stay around for 40+ years just being adequate or caring only about money. It's because they have heart!!.
I have been an adult student at Wendy Leard's studio on and off for a few years. Wendy is incredibly organized and professional, and despite all the covid confusion, she has been on top of the game, communicative and responsive every step of the way. I feel safe in her large studio space with the many safety protocols in place. She is a warm, welcoming and passionate leader who cares deeply about what her business offers and the people who walk through the doors. Highly recommend to anyone looking to send their child to a dance studio in Niagara.
Wendy Leard and staff are wonderful!!!! They are so kind and my daughter joined this year And loves it so much she wanted to dance more !! Thank you Wendy and Team for motivating my daughter Mia and gaining her confidence !!!.
Mon & Thu: 4:30pm - 9:30pm
Tue & Wed: 4pm - 9:30pm
Fri: 4.30pm - 9pm
Sat: 9am - 3pm
Sun: Closed
Nearby Dance Schools in Niagara Falls: