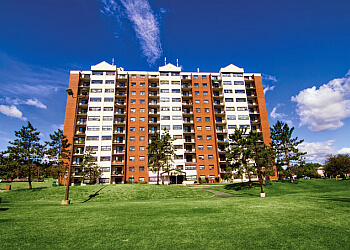 The CLV Group stands as a well-established and sophisticated apartment property in Ottawa, Canada, with a remarkable legacy of over 50 years. Throughout this time, CLV Group has been a trusted partner in helping renters and homeowners find their perfect place to call home. Continuously building upon their strong reputation, they are recognized as industry leaders and pioneers in innovation. The apartment community offers a diverse selection of Ottawa apartments, strategically located in the National Capital Area. Their range includes studio and bachelor's apartments, one-bedroom apartments, two-bedroom apartments, and three-bedroom apartments, each offering a unique perspective of the beautiful city of Ottawa. Beyond providing comfortable living spaces, The CLV Group is devoted to making positive contributions to society. As a full-service Real Estate Brokerage registered with the Ottawa Real Estate Board, they are experienced in assisting homeowners in their quest to buy or sell their most significant investment – their homes. With over 10,000 rental accommodations, The CLV Group has established an extensive presence in Ottawa's real estate landscape. Their apartments are conveniently located near several famous neighborhoods, including ByWard Market, Centertown, Sandy Hill, Hintonburg, and more, offering residents easy access to vibrant surroundings and amenities. With their enduring legacy, dedication to excellence, and diverse portfolio, The CLV Group continues to be a trusted and sought-after choice for those seeking exceptional living experiences in Ottawa.

UNIQUE FACTS:
• Environmental Sustainability
• Diversity and Inclusion
• Tenant Insurance
• Property Management
• Real Estate Brokerage.
Specialty:
Elevator in High-Rise, Laundry Facilities, On-Site Staff, Secure Entrance, Indoor Pool, Outdoor Pool, Fitness Centre and Yoga Room, Indoor Basketball Court, Media Room, Games Room, Athletic Centre, Bike, Jogging Paths & Strong Community Centre
$Price:
1 - 2 Beds |1 Bath 0 - 928 sq. ft. $1,725+

Contact:
Working Hours:
Mon-Fri: 8:30am - 5pm
Sat & Sun: Closed
TBR® Inspection Report: