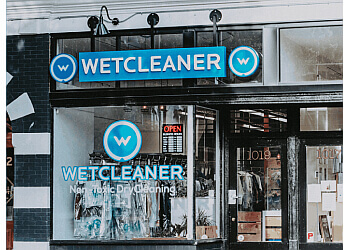 The Wet Cleaner stands out as exclusive non-toxic dry cleaner in Victoria, BC. Punita Madaan at the helm as the store manager. Their commitment lies in employing an environmentally-friendly, chemical-free cleaning process. Their expertise extends to the meticulous care of premium fabrics, clothing, and household items like curtains. The Wet Cleaner is unwavering in its dedication to fostering a triple bottom line business, where every cleaning product and method employed prioritizes safety for both people and the environment. Within their shop, they remain steadfast in their mission by utilizing cleaning products and methods that pose no harm to individuals or the natural world. They actively pursue measures to diminish their carbon footprint, sourcing supplies locally whenever feasible. In a conscious effort to reduce plastic usage, they opt for reusable laundry bags for garments, and any plastic they do employ is biodegradable. The pride they take in their commitment extends to their valued team members, loyal customers, and the well-being of their planet. The Wet Cleaner utilizes electric pickup and delivery vehicles and bicycles for transportation.

UNIQUE FACTS:
• Experienced Garment Cleaners
• No Harsh Odours or Chemicals
• Free pick Up and Delivery.
Specialty:
Dry, Wet Cleaning, Washing, Folding, Cotton Dress Shirt, Silk, Leather Accents, Wool, Shirts, Duvets, Suits, Sweaters, Sequins, Beads, Pants, Cotton, Household Textiles, Jacket/blazer, Skirts, Blouses, Kilts, Wedding Gowns Cleaning Services & Stuffies
$Price:
Cotton Dress Shirt $5.70
Pants $13.50
Dress $18-$30
Suit Jacket/Blazer $15.70
2-piece suit $27.95
Shirt (Tommy Bahama) $9.45
Skirts $12.50
Blouse $10.50
Sweater $12.75
duvets - $35-$45
Curtains $22-$25 per panel

Winter Coats $28-$34
Quilts (all sizes) $45.00

Contact:
Working Hours:
Mon-Sat: 8am - 6pm
Sun: Closed
TBR® Inspection Report: