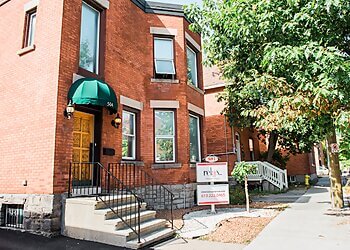 relax. Ottawa Massage Therapy stands as a prominent massage clinic within Ottawa, renowned for its excellence. Their team of skilled Registered Massage Therapists ensures professional and impactful massage therapy treatments available seven days a week. At "relax. Ottawa Massage Therapy," the array of highly qualified Massage Therapists is continuously expanding, offering a diverse range of expertise, including deep tissue sports massage, pregnancy massage, Thai massage, cupping, hot stone massage, and taping. The central focus of relax. Ottawa Massage Therapy lies in delivering therapeutic services akin to those found in medical and rehabilitation settings. This commitment is matched with a profound understanding, all while enveloping clients in an ambiance of tranquility, positive energy, and healing, akin to entering a serene Zen sanctuary. The pride they take in their work extends to offering massage therapy care at multiple locations across the city, including Kanata, Greenbank, Almonte, Perth, and The Westin.

UNIQUE FACTS:
• Experienced RMTs
• Warm and comfortable atmosphere
• Online booking
• Convenient hours
• Same day/Next day appointments
• Direct billing.
Specialty:
Hot Stone Massage, TMJ (Temporomandibular Joint) and Pregnancy Massage, Reiki, Cupping, Reflexology and Taping, Craniosacral Therapy & Acupuncture
$Price:
Massage Therapy:
30 minute massage therapy session - $75.00
45 minute massage therapy session - $100.00
60 minute massage therapy session - $120.00
75 minute massage therapy session - $145.00
90 minute massage therapy session - $165.00
Ashiatsu Massage:
45 min - $100.00
60 min - $120.00
75 min - $145.00
90 min - $165.00 - Offered by Carlisle Lee, Lillian Lam Tine Foo, and Ilona Jones

Pregnancy Massage:
30 minute pregnancy massage - $75.00
45 minute pregnancy massage- $100.00
60 minute pregnancy massage - $120.00
75 minute pregnancy massage - $145.00
90 minute pregnancy massage - $165.00

Contact:
Working Hours:
Mon: 9am - 8pm
Tue-Fri: 8am - 8pm
Sat: 9am - 5pm
Sun: 11am - 4:30pm
TBR® Inspection Report: