New West Wellness Centre Inc.
New West Wellness Centre is dedicated to providing a warm, serene, hygienic, and compassionate environment, offering a space for relaxation and healing. New West Wellness Centre Inc. is one of the Three Best Rated® Massage Therapy in New Westminster, BC.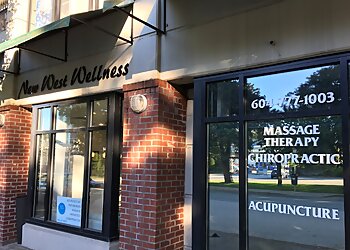 Their primary mission revolves around offering support and assistance to numerous individuals in their journey to overcome pain and attain robust health. The practitioners at New West Wellness Centre specialize in treating various acute and chronic health conditions, emphasizing preventive care to enhance well-being across all age groups. This healthcare clinic serves the New Westminster community by offering a team of highly qualified and empathetic healthcare professionals committed to alleviating discomfort and enhancing the quality of life for everyone. New West Wellness Centre takes pride in its diverse lineup of hands-on practitioners who excel in providing a variety of massage treatments, along with expertise in Naturopathy, Chiropractic care, Acupuncture, Cupping, Kinesiology, and Nutrition.


Welcoming, Calm, Clean And Caring Environment
Highly Educated, And Compassionate Healthcare Professionals
Excellent Communication.
Manual Lymph Drainage (MLD)

Relaxation/stress Relief

Sports Massage

Deep Tissue

Prenatal and Postnatal Massage

Chiropractor

Kinesiologist

Acupuncturist

Naturopathic Doctor & Orthotics

Myofascial Release

TMJ Massage

Trigger Point Therapy

IASTM (Instrument Assisted Soft Tissue Mobilization)

Joint Mobilizations & Personal Training
I had a great experience with Simon Graham. Besides the relaxing and wonderful message which really activated my parasympathetic nervous system, he was very kind and went above and beyond to offer some possible explanations of my symptoms from his point of view and expertise. He is thoughtful, analytical, professional, passionate about his work and compassionate. Very much appreciated. Thank you Simon!
My massage therapist is an amazing therapist and person. She tries different options and techniques that can help me relieve the pain, ease the muscle tension and improve the general well being. The massage is so relaxing that I feel like going to sleep.
Fiona gave me a clear explanation of how and why the interactions of muscular groups affect my condition. Adequate pressure was applied to affected areas and I am very satisfied with her massage techniques.
$130 for 60 minutes treatment
Mon-Fri: 7am - 9:30pm
Sat & Sun: 9am - 6pm
Nearby Massage Therapy in New Westminster: