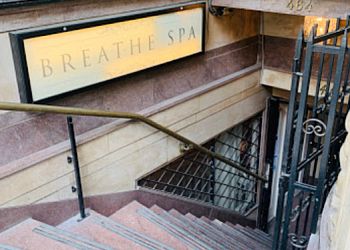 Breathe Spa stands as the premier day spa in downtown Vancouver, offering guests the latest in spa wellness experiences within spacious treatment rooms. Having established a strong reputation for providing exceptional spa services within the local community and on an international scale, Breathe Spa offers a variety of treatments that are carefully tailored to cater to individual preferences. These treatments are administered by seasoned beauty therapists and aestheticians using top-tier skincare products sourced internationally. At Breathe Spa, they take immense pride in delivering the utmost calibre of spa wellness services accessible. They exclusively utilize the finest skincare products, and with their well-informed personnel and refined, tranquil surroundings, you can be assured of encountering a splendid journey that results in radiant skin and a profound sensation of tranquillity. The spa's skilled skincare professionals are readily accessible for consultations, guiding comprehensive facial rejuvenation. Rooted in their philosophy of bestowing the utmost in spa wellness services, Breathe Spa is dedicated to providing guests with unparalleled holistic experiences.

UNIQUE FACTS:
• Light lunch and refreshments are available
• Gift Certificates are Available
• Women-owned
•More than 10 years winning awards for its outstanding spa services.
Specialty:
Express Facial, Acne, Back, Signature and Classic Facial, Eyelash Extensions, Lift + Firm Eye Treatment, Express Cleanse, Eyelash and Eyebrow Tinting, Gel Nails, Gel Nail Manicure, Organic Body Scrub, Relaxation or Reflexology, Eyebrow Waxing, Makeup Application, Hot Stone & Jet-Lag Reviver Massage
$Price:
Facials:
Signature Facial (100 minutes) - $240
Classic Facial (75 mins) - $160
Back Facial (50 min) - $120
Express Facial (20 minutes) - $85
Acne Facial ( 50 minutes) - $150
Nail Care:
Breathe Spa Manicure (50 minutes) - $120
Breathe Spa Deluxe Mani-Pedi (80 minutes) - $120
Gel Nails - $50
Gel Nail Manicure - $160

Massage & Bodywork:
Relaxation or Reflexology Massage (50 minutes) - $150
Hot Stone Massage (75 minutes) - $260
Organic Body Scrub (60 minutes) - $260
Jet-Lag Reviver Massage (55 mins) - $155

Discount:
15% Off on All Breathe Spa Packages
Contact:
Working Hours:
Thu: 12pm - 8pm
Fri: 12pm - 6pm
Sat & Sun: 10am - 6pm
Mon-Wed: Closed
TBR® Inspection Report: