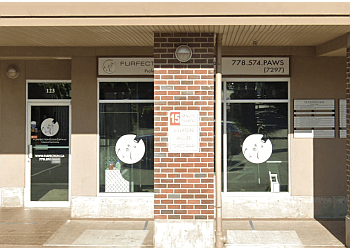 Furfection Dog Spaw stands as a prominent pet grooming salon situated in Surrey. The proprietor of this establishment is Ashleigh & Gator Ot Vitosha. Ashleigh, a Certified Groomer, leads the way at Furfection Dog Spaw, approaching each dog's grooming with enthusiasm and patience, coupled with a sharp eye for creativity and precision. Their team of groomers collectively possesses extensive experience in the realm of professional grooming. While individual groomers may have their specialties in terms of breeds or sizes, each of them demonstrates exceptional proficiency in grooming dogs of all breeds. Furfection Dog Spaw places a strong emphasis on delivering top-tier service quality. They boast an impressive track record in successfully rehabilitating nervous or fearful pets. This accomplishment has led to a significant portion of their clientele consisting of returning customers and individuals who were referred by satisfied clients. The team takes great pride in achieving customer satisfaction and views their establishment as a premier destination for canine hygiene and care.

UNIQUE FACTS:
• Quality of Pet Grooming
• Has Ample Experience in Professional Grooming
• Groom All Breeds of Dogs with Superior Ability
• State of The Art Equipment
• a Stress Free Atmosphere.
Specialty:
Full Body Hair Cut, Hydro Massage Bath, Full Brush Out, Finishing Cologne Spray, Premium Shampoo and Fine Conditioner, Ear Cleaning and Plucking, Hand Blow Dry, De-Shedding, De-Matting, Nail Trimming, Bath & Brush
$Price:
Grooming Services:
Bath & Tidy:
Small (15lbs & Less) $70
Medium (30lbs & Less) $95
Large (30 to 60lbs) $120
Full Groom:
Small (15lbs & Less) $85
Medium (30lbs & Less) $110
Large (30 to 60lbs) $140
Premium Package:
Small (15lbs & Less) $100

Medium (30lbs & Less) $130
Large (30 to 60lbs) $170
Additions to Any Package:
Nail Dremmeling $5
Teeth Brushing $15
Deep Conditioning $10
Snout & Paw Cream $10
Additional Deshedding/dematting $20
Furminator Deshed Treatment Lg $20
Furminator Deshed Treatment Sm $15
Flea Treatment $20
Gland Expression $15
Daycare Stay $20/hour
Nail Trim $17
Trim & Dremmel $22

Contact:
Working Hours:
Mon: 9am - 1pm
Tue-Sat: 9am - 5pm
Sun: Closed
TBR® Inspection Report: