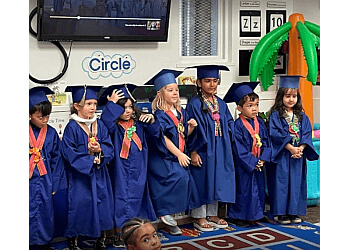 Bonnycastle Montessori Preschool & Daycare stands as a prominent preschool within Surrey, having dedicated over three decades to serving the local community. Established in 1991 by Fenella and Terry De Vaz in British Columbia, this institution has garnered recognition. The staff, thoughtfully chosen, undergo comprehensive training in line with contemporary early childhood education practices, ensuring their competence. The establishment fosters a secure, all-embracing educational setting imbued with core values. Each of their facilities provides a nurturing and secure atmosphere, encompassing both indoor and outdoor play zones, as well as nap spaces and classrooms. The provision of wholesome meals and snacks for the children further underlines their commitment. Bonnycastle Montessori Preschool & Daycare distinguishes itself through its distinctive childcare programs, available across five separate locations within Surrey's Guildford area in British Columbia.

UNIQUE FACTS:
• Sensory and Perception
• Physical and Motor Skills
• Social and Emotional Growth.
Specialty:
Perception, Self-Help, Language, Social, Emotional Growth, Mathematics, Funneling Water, Painting, Sorting, Number Rods, Practical Life Montessori Method, Before/After School Care, Multi-Age Care, Arts, Crafts, Sensory, Basic Literature Sandpaper Letters & Sensorial Perception
$Price:
infant/toddler care: $350/per month
3 to Kindergarten: $100/per month

Contact:
Working Hours:
Mon-Fri: 7am - 6pm
Sat & Sun: Closed
TBR® Inspection Report: